---
This Interview was held by Rick123Axel.
Adam Harrington portrayed Andy St. John, Leland and Jerry from Telltale's The Walking Dead.
---
How did you get your roles?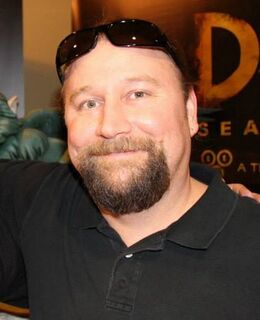 Mostly through auditions, from my agent.
Did you watch the TV show or read the graphic novel prior to getting a role in the Game? And if so, do you have a favorite character?
Yes, to both. My favorite character....Tyreese.
What was it like to work with Dave Fennoy and all the other amazing voice actors in the Game?
Awesome! Although we didn't record togther.
Have you played through the game? If so do you have a favorite character?
Yes my favorite character is Omid.  I like Omid because he brings a little comedy to the situation, and lightens the mood.  Besides, his voice actor Owen Thomas is one of my favorite people.  Owen is AWEOME!  And hilarious.  Great casting there.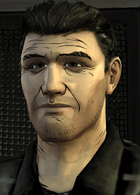 In what ways are you similar to, as well as different from your characters Andy St John, Leland and Jerry?
Ha!  That will take a while to think about.  I can tell you now, I'm a loud mouth like Jerry, protective like Leland, and I like to take care of my family as much as Andy also like a nice home cooked meal like Andy.
How do you get into the role when recording?
Really depends on the character.  All sorts of different ways.  I try to do as much research as possible, particularly if it's an existing character I'm giving voice to… like Bigby Wolf.  Read the first twelve volumes of Fables so far, it's a fantastic comic by the way. 
Do you have any ideas of scenes cut featuring Andy, Leland or Jerry?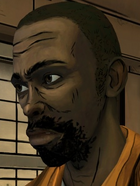 Hmm, I really don't remember.  Good question though, I'm sure someone at Telltale has the outtakes.
What was your reaction to hearing that The Walking Dead had won the Game of the Year award at Spike VGAs as well as the huge success of the Game in general? Did you ever expect it to become so successful?
Pretty much this: https://www.youtube.com/watch?v=1eu-xW-YRVA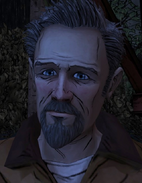 Did the cast and crew do anything special after the Game was finished?
Yeah, we made Wolf Among Us.
Are you currently working on any other projects?
Quite a few… but unfortunately can't talk about any of 'em yet. 
Thank you again on behalf of the entire wiki! We appreciate it very much!    
Of course man!