---
This interview was held by Jack7809.
April Billingsley portrayed Theresa on The Walking Dead.
---
What role/roles did you have on The Walking Dead?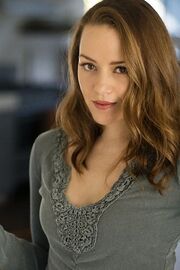 I played the female cannibal Theresa, one of the Terminans/Termites.
Did you watch the show or read the graphic novel prior to your role?
I watched the show and had read a bit of the graphic novel before I was cast. My husband had read more of the graphic novel than I had.
Were there any scenes that didn't make it past post-production with you in them? (If so what happened in them)
I think everything I filmed made it into the final cut.
Did your character have a back story that was not shown/cut? If not did you make one for yourself?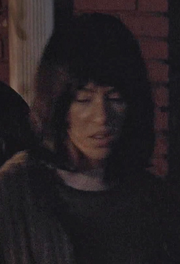 I did not have much of a backstory from the comic or the show, but yes, I did make a bit of one up for myself. As far as my back story goes, I thought about it for myself as an actor, how I came to be the only female terminan in our group and what that meant about who I was, but I didn't make up a detailed story I'd feel comfortable writing out.
How many episodes have you appeared in?
I was in two episodes, and a third in a flashback I believe.
Who are your favorite characters in the show currently?
Maggie and Carol are my favorite characters right now.
What was it like filming your death scene? Theresa had such a graphic death!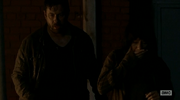 Thanks! It was fun, Danai Gurira was really sweet and such a professional.
How did you get your role on the show?
I did a taped audition.
What was the atmosphere like on set, being on such a serious show?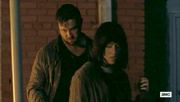 Everyone was really, really nice on set. It was very relaxed. As far as I could tell from my short time with them, everyone really just keeps the drama between action and cut.
Do you have any interesting or funny stories from your time on the set?
I told Andrew Lincoln that I watched "Love Actually" every Christmas while we were sitting in between shots and he had the funny moment, where he looked at me for a moment and the said "Oh, you're just a big softie, you're not a cannibal at all!"
What was the best thing about working on The Walking Dead?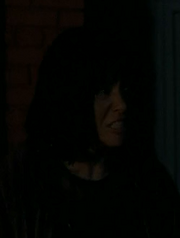 The best thing about working on The Walking Dead is that now I'm a part of this awesome community of actors and story tellers that helped bring this fantastic piece to life.
Thank you so much for the interview on behalf of the whole wiki! We really appreciate it!
Community content is available under
CC-BY-SA
unless otherwise noted.