---
This interview was held by Rick123Axel.
Brandon Fobbs portrayed Terry in Michonne's Flashback.
---
What role/roles have you had in The Walking Dead?
Terry.
How did you get the role?
I auditioned in Ca. and then was flown out to Ga. Shoot. Plus I was a big fan of the show ahead of time.
Would you return again in another flashback?
That is a big unknown for me. The Production and Creators are so secretive that the audition that I read wasn't even the same lines I read in the show. 
What was the best thing about working on The Walking Dead?
It's one of my favorite shows ever! So I got to hang with the people that I enjoyed watching so much. An then I was able work with them. It shows me that just about anything is possible if you put the real work in and the prayers up. 
Did you watch the show or read the graphic novel prior to your role?
I sure did. All the way from season one. I started it on Netflix and then caught up in the middle of Season Two on AMC.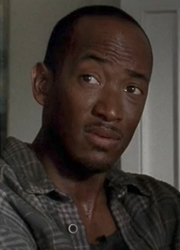 Who are your favorite characters?
Rick is my favorite character. He try's to stay human in an otherwise ugly world.Oh and Michonne. Because that sword is one of the most sensible weapons to have in that time.
What is the atmosphere like on the set of such a serious, dramatic show?
They are actually ALL great and kind people. I actually got to sit down with Andy and Chandler for lunch. Rick and Carl that is. They were excellent people. It shows the worth in being a good person in this world. No, actually, everything we shot ended up being on the screen, which can be kind of rare sometimes.
Do you have any interesting or funny stories from your time on the set?
Well, the set is in Ga. nothing out of the ordinary happened there. But at the special fx studio in Ca. I was like a kid in a candy store when I was able to do a tour and see the making of their zombies and all their prosthetics. Plus they also did the suits to the Predator creatures from the movie Predators. 
What was the best thing about working on The Walking Dead?
Meeting the Producer, who is a fan of the show just as much as me! We had fun the first day I came to meet him. Then getting to the set in Ga. and finding out that everyone is as nice as they could be out there. That was the best discovery for me. 
If a zombie apocalypse were to happen which character from the show do you think you would be most like?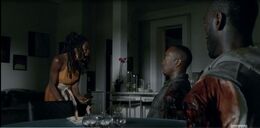 Most Likely a mixture of Rick and Michonne. I would do all I can to try to make the right decisions. But I would also have a sword or definitely some kind of long edged weapon.
Are you currently working on anything interesting that you can reveal?
I have a show on HBO that I will be starting to shoot in July called Getting On. I'm also in a short film that the director is looking to make a feature of, about a Trumpet player with epilepsy. Other than that. I will also be tackling creating my own productions soon. You can see more of my stuff at www.brandonfobbs.com. Here's a snip bit of a short film that I starred in . They're raising money for Film festivals.
Thank you again on behalf of the entire wiki! We appreciate it very much.