---
This interview was held by Rick123Axel.
Bridget Jourdain Middleton portrayed an unnamed Woodbury resident.
---
What role/roles have you had in The Walking Dead?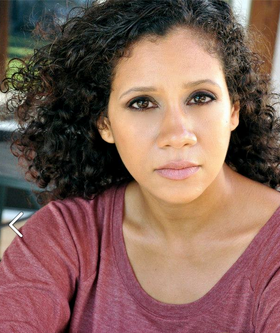 I was a Woodbury survivor and a soldier in the season finale. 
What episodes have you appeared in?
I was in three, but I can be seen in two. The barbeque with the pig, and the finale. I jumped off of the truck with a sniper rifle.
How did you get the role?
I submitted to an extras casting company.
Was there any scenes that were cut featuring you?
Running in the bomb scene. I am not cut, but hardly seen. When they were fighting in the arena.
Did your character have a name or backstory which was not shown/cut? If not, did you create one for yourself?
I did not have a story, and I just lived on set as though I was really struggling to survive. The set was naturally hot and sticky most months, and the days long, so it really felt like a hard time.
Can you confirm you character's fate?
The Governor killed me.
Did you watch the show or read the graphic novel prior to your role?
I watched the first season.
Who are your favorite characters?
Michonne and Rick. 
What is the atmosphere like on the set of such a serious, dramatic show?
It's tiring because the hours are long, and intense, and because you have to be in character. It's also cool, because you get to see the zombies transform.  
Do you have any interesting or funny stories from your time on the set?
One late night an actor started playing the organ, and he sang amazing grace. We were all entertained, and thought it was pretty cool. 
What was the best thing about working on The Walking Dead?
Being able to mingle with the cast, and watch the zombies transform.
Thank you again on behalf of the entire wiki! We appreciate it very much!
No problem.  
Community content is available under
CC-BY-SA
unless otherwise noted.