---
This interview was held by Rick123Axel.
Cody Rowlett has played walkers in Season 1 and 2.
---
What role/roles have you had in The Walking Dead?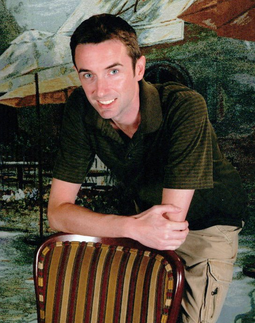 Very first zombie in makeup for season 1 episode 1. Second season episode 1, just a walker.  I'm in the pilot trailer. Trading card and Poster.
Did you create your characters names or backstorys?
No.  Just a zombie attacking Rick. One of the first.
How did you get the role?
I'm tall and skinny.  Agent.
Did you read the graphic novel or watch the show after getting a role in the show?
No.
What is it like to work with the amazing special effects artist Greg Nicotero?
I was the first person he made-up for the show.  He was a great guy.  Very precise and focused.  Great talent.
What is the atmosphere like on the set of such a serious, dramatic show?
A lot of hurry-up and wait..  they are a very focused crew.
Do you have any interesting or funny stories from your time on the set?
Not really.  It was always miserably hot.  I wouldn't go back.  Ha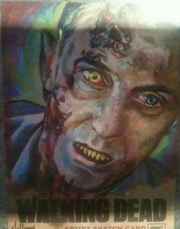 What is the best thing about working on The Walking Dead?
It was just fun to be a zombie.
Are you currently working on anything interesting that you can reveal?
Several projects on the production side.  Also an upcoming real estate reality show.
Thank you again on behalf of the entire wiki! We appreciate it very much!
Thanks.