---
This interview was held by Rick123Axel.
Edward Trybeck is an orchestrator for The Walking Dead. 
---
What role do you have with The Walking Dead?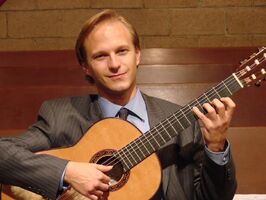 Orchestrator and acoustic guitarist.
How did you get the role in the music of The Walking Dead?
I have the pleasure of working for Bear McCreary on pretty much everything he works on, so when he signed on for The Walking Dead I got to come along for the ride! 
Do you watch the show or read the graphic novel? I
do watch the show and I started reading the graphic novel after we started working on the show. 
Who are your favorite characters? 
That's a really tough one.  Probably Michonne or the Governor.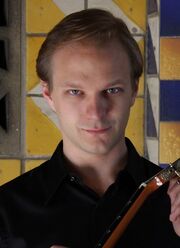 What is the best thing about working on The Walking Dead? 
Working on some of the coolest music for one of the coolest shows on TV! 
What is it like to work with Bear McCreary?
 Busy, but always a blast.  The schedule and turn around TV is always tight, but it's incredible to watch so many talented people working together to create something incredible week after week. 
How is the music decided for an episode? 
Probably a better question for Bear!  I get the music after it is composed, so I'm not involved with where the music goes. 
Do you have any interesting or funny stories from your time on set? 
On one string orchestra session we were recording a cue that was super quiet and atmospheric.  There was a sudden bartok pizzicato in the contrabass (when they pull the string away from the fingerboard and it snaps back violently).  It was so shocking that our concert master shrieked!  We all laughed and they began the cue again.  Once again, we were all in this serene place and BANG!  She shrieked again!  We were on the floor laughing about it.  We got a perfect take the third time of course, but I think we were all snickering when we got to that moment again.   

Some of the crew such as Animal Wranglers Carol and Greg Tresan and Corey Reitz make cameos on the show as either background survivors or walkers, have you been asked/done this? If not would you?
I have not been asked and I would love to do it (assuming it would work scheduling-wise).
Are you currently working on anything else you can reveal? 
A number of things, but unfortunately it's all hush-hush. 
Thank you again on behalf of the entire wiki! We appreciate it very much!