---
This Interview was held by Rick123Axel.
Greg Crews portrayed the snoring man who was eaten by Patrick in Season 4 Episode 2
---
What role/roles have you had in The Walking Dead?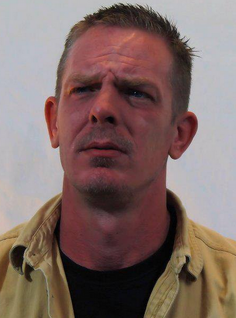 Just the Snoring guy and I did a small walk on role in season 2 but it was almost cut out..I was in a flashback scene in season 2 episode 5...
Did the snoring man have a name or backstory which was not shown/cut? If not, did you create one for yourself?
No it was all established when I got there. I was a woodbury refugee that was found snoring in the night. They cut out all the scenes when I was working around the prison collecting firewood and inventory on ammo..
Did you watch the show or read the graphic novel prior to your role?
Yes I started watching it after I worked on the show.. Im not much of a horror person.. I prefer action and comedies..
Who are your favorite characters?
My favorites are Hershel and Michonne.. I like all of them but those are very fascinating to me...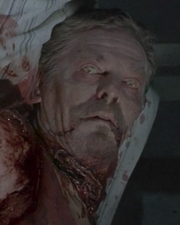 What is the atmosphere like on the set of such a serious, dramatic show?
Very laid back... Very high energy...If that makes sense...Everyone is real nice and supportive of what they are creating....
Do you have any interesting or funny stories from your time on the set?
I had a lot of interesting conversations.. I was on set for a week wearing nothing but boxer shorts... I mean that alone is funny to think about.... Me and Scott Wilson were talking  and he looks at me says "You look like your having a rough day" I looked at him and said " Nice ponytail"  He thought that was funny...
What was the best thing about working on The Walking Dead?
The people there are very nice... I was spoiled working with them....
If a zombie apocalypse were to happen, would you rather be in Woodbury or the prison?
Well considering I was in both.. Neither worked to well for me..I like Andrea and Michonne's idea of going to the beach...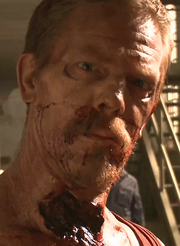 What is it like to work with the amazing special effects artist Greg Nicotero?
He is awesome.. He is the one who picked me out for the role and introduced me to everyone.. I was very impressed with his expertise and professionalism.
Are you currently working on anything interesting that you can reveal?
I play a Peacekeeper in the Hunger Games series and I just day played on a fast and furious sequel as LAPD.... I got a few things on the burner right now....
Thank you again on behalf of the entire wiki! We appreciate it very much!
Your welcome.....Have a nice day....