---
This interview was held by Rick123Axel.
Jeff Glover Portrayed a walker in Season 4 
---
What role/roles have you had in The Walking Dead?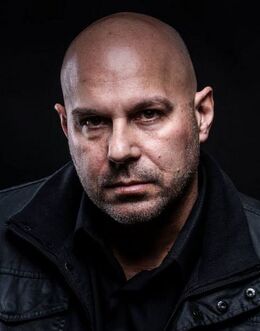 I was cast as the tall bald walker on Season 4 / Episode 3 - "Isolation" 
How did you get your role?
Casting posted a role looking for someone that was 6'3", tall and bald 
Did you watch the show or read the graphic novel prior to your role?
I watched the show. I've been a fan of The Walking Dead since day one. 
Who are your favorite characters?
Tyreese 
How long did your make-up take to apply? Was it uncomfortable to wear?
It took two and a half hours and absolutely loved it. It took a little over an hour to remove. 
What is it like to work with the amazing special effects artist Greg Nicotero?
Greg is amazing, seeing him in person doing what he does was great. I also got to spend some time with him at the Walker Stalker Convention.   
What is the atmosphere like on the set of such a serious, dramatic show? 
The day I was on set was surreal being such a fan of the show. The entire cast and crew was great to me.   
Do you have any interesting or funny stories from your time on the set?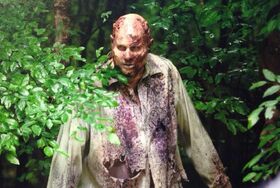 We were raced out to set in the middle of the woods on four wheelers where everything was set up already. After filming for awhile it started raining, then it down poured for about fifteen minutes, all the walkers were standing under a small tent.
What is the best thing about working on The Walking Dead?
It was one of the best days on set as an actor for me. The entire process from the beginning to end was first class working with such talented and great people. 
What was it like working so closely with cast like Chad Coleman and Norman Reedus?    
Both Chad and Norman played a role in the scene I was in and were both very professional. It was an honor to be able to work with them. 
If a zombie apocalypse were to happen which character from the show do you think you would be most like?
Norman Reedus  
Are you currently working on anything interesting that you can reveal?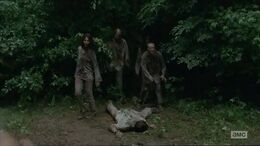 Peacekeeper in the upcoming 'Hunger Games' 
Wall Street Executive in USA's "Satisfaction" 
an Orderly in Dumb Too 
Bad Guy in Let's Be Cops 
http://www.facebook.com/followdotch
Thank you again on behalf of the entire wiki! We appreciate it very much!