---
This interview was held by Rick123Axel.
Jonathan Stokes Hart has portayed many walkers including one of Michonne's second pets.
---
What role/roles have you had in The Walking Dead?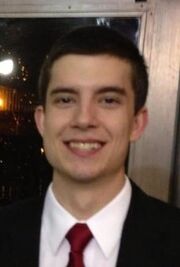 I've worked on three episodes so far. All season 4. I was one of the walkers that busted down the prison fence and rushed the prison yard. Also, was in the mid season finale when the walkers were slowly making there way up to the prison. And then of course the latest episode.
How did you get your role?
I just submitted through their Facebook page and they called me up.
Did you create your characters names or backstorys?
No I didn't. You'll learn more about the pet walkers in Episode 9.
Did you read the graphic novel or watch the show prior to getting a role in the show?
Yeah, I've been watching the show since the premiere.
Who are you favorite characters? 
Probably say Merle, Rick, Michonne, Andrea and Glenn.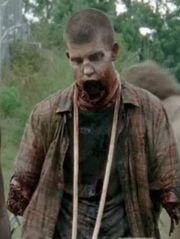 What is it like to work with the amazing special effects artist Greg Nicotero?
He's incredible. He super nice and knows a lot about zombies. It's so awesome from watching talking dead to actually to be able to see and talk to him.
What is the atmosphere like on the set of such a serious, dramatic show?
Umm during the scenes and all it's pretty intense, but sometimes in between takes and at lunch they are all nice and pretty light hearted.
Do you have any interesting or funny stories from your time on the set?  
It's all good.
What is the best thing about working on The Walking Dead?
Probably being able to work with such talented people who put on an amazing show. It's so cool to see one of your favorite shows come to life.
Are you currently working on anything interesting that you can reveal?
Unfortunately not. I'm in school right now so I probably won't be able to work on anything till summer.
Thank you again on behalf of the entire wiki! We appreciate it very much!
No problem.