---
This Interview was held by Rick123Axel.
Kiff VadenHeuvel portrayed Walter in Telltale's The Walking Dead Video Game.
---
How did you get your role as Walter?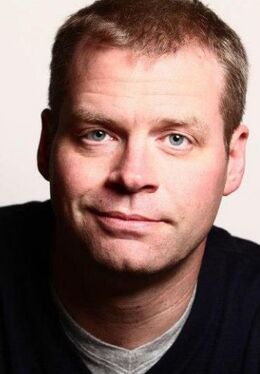 I auditioned for it against, I'm sure, many other people. I prepared the script the night before, made emotional choices and went in to my talent agency and read for it. Heard nothing for a very long time and then was told right before Christmas that they wanted to book me. 2 sessions about an hour each.
Can you confirm Matthew and Walter's relationship?
That information wasn't given to me. I chose very, very close friends.
When did you find out Walter would be killed?
When I got to the end of the script.
Did you watch the TV show or read the graphic novel prior to getting a role in the Game?
Just played some of the game. I watched the show before but it's too different an animal.
Who are your favorite characters?
I love Steven Yuen. I used to direct him in Chicago at Second City. Clem is great.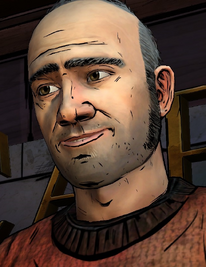 In what ways are you similar to, as well as different from your character Walter?
We sound alot alike.
How do you get into the role when recording?
That's a great question. I spend a lot of time researching what has been or about what the style of the show is, and then based on the words the character says, try to find a voice that matches how that guy might say those things. Sometimes I'm just trying to match what's been done.
What is your opinion on Walter overall?
I think Walter is a really stand up guy who is trying with all his might to make an abnormal world feel normal, filled still with traditions, kindness, warmth, generosity and culture. He's a very unique character in games in general and I really love that about him.
Do you have any ideas of scenes cut featuring Walter?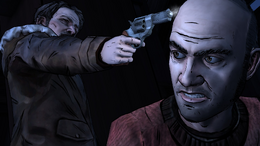 I don't, no. The team is super efficient and used everything we did.
Would you have let Nick be eaten in Walter's position or would you have saved him?
I think he made the right choice. Even though he was devastated by the senselessness and loss of Matthew, you can't stop Walter from being who he is, a guy who is trying to bring light to a world completely shrouded in darkness. Walter is who he is, and even though Nick did what he did, he can't let himself fall into the void. He's such a remarkable character. I know there are choices that can be made that'll lead to Nick getting eaten, but when I played, I couldn't make those choices. So. But, I don't get the whole script when we record, just the bits we are saying and they are often out of sequence. So when I play the game, because it's so choice driven, I'll never get to see everything I recorded unless I go back to the beginning and play from the top again. and I just don't have time for all of that!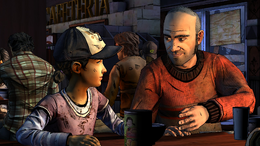 Are you currently working on any other projects?
I'm narrating a new series for ID Network called Disappeared, I'm in a couple films being released later this year (Imagine(with Al Pacino) and Nightcrawler (with Jake Gyllenhaal and Rene Russo) and I've got a couple auditions/call backs for projects that I can't talk about but are very exciting. So goes the life of a working actor! I've also narrated some audiobooks if folks want to listen to me read without getting killed all the time. Just do a search for me on Audible and it'll come up!
Thank you again on behalf of the entire wiki! We appreciate it very much!
Cool