---
This interview was held by Rick123Axel.
Sue Burnett portrayed "Grandma Walker" who had her head stomped on by Sasha in the prison.
---
What role/roles have you had on AMC's The Walking Dead?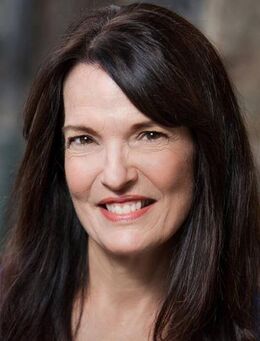 That has been my only appearance in any season of the Walking Dead.  I was in episode 2, Season 4, "Infected."  It was truly one of the very best set experiences I've had!!
Do you have any idea what killed your character?
I'm not sure, but probably some extremely contagious air-borne virus.
Did your character have a name or backstory which was not shown/cut? If not, did you create one for yourself?
Grandma Walker
Did you watch the show or read the graphic novel prior to your role?
I have watched the program, but  I have not read the novel.
Who are your favorite characters?
Rick, Daryl, Carol, Sasha and Tyreese.  Actually, I like them all!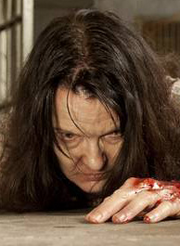 What is the atmosphere like on the set of such a serious, dramatic show?
Very relaxed and friendly!
Was there anymore to the scenes that didn't make it past post-production with you in them?
Nope.  I was very lucky to be included  in that episode.
Do you have any interesting or funny stories from your time on the set?
No, not really.  We were kept very busy.
What was the best thing about working on The Walking Dead?
The cast and crew were very, very nice.
If a zombie apocalypse were to happen which character from the show do you think you would be most like?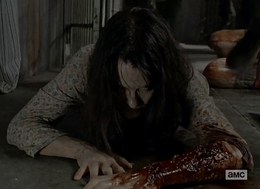 Maggie!
Your death was one of the most memorable walker deaths , what was it like getting your head stomped on by Sasha?
Painful!  Just kidding!  
What is it like to work with the amazing special effects artist Greg Nicotero?
Awesome!!  
Was the make-up uncomfortable to wear?  How long did it take to apply?
No, surprisingly it wasn't too bad.  The applications took about an hour and a half.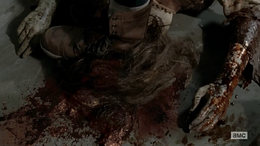 Do you know if your character had come from Woodbury or if they had joined over the time skip? If not did you decide for yourself?
I really don't know
Are you currently working on anything interesting that you can reveal?
Have you seen Anchorman 2?  If not, you can find me the trailer for the film.  I'm in the funeral scene sitting in the front row on the right! 
Thank you again on behalf of the entire wiki! We appreciate it very much!
Thanks for asking!  Take care